"I told him a story of two people. Two people who shouldn't have met, and who didn't like each other much when they did, but who found they were the only two people in the world who could possibly have understood each other."
Goodreads Synopsis: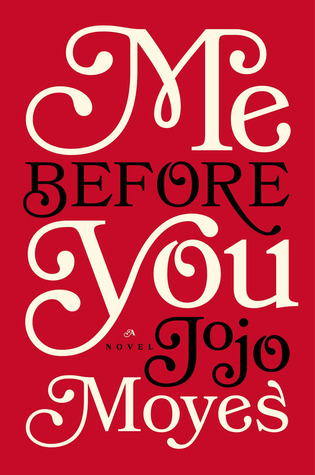 Louisa Clark is an ordinary young woman living an exceedingly ordinary life—steady boyfriend, close family—who has never been farther afield than their tiny village. She takes a badly needed job working for ex-Master of the Universe Will Traynor, who is wheelchair-bound after an accident. Will has always lived a huge life—big deals, extreme sports, worldwide travel—and now he's pretty sure he cannot live the way he is.
Will is acerbic, moody, bossy—but Lou refuses to treat him with kid gloves, and soon his happiness means more to her than she expected. When she learns that Will has shocking plans of his own, she sets out to show him that life is still worth living.
A love story for this generation, Me Before You brings to life two people who couldn't have less in common—a heartbreakingly romantic novel that asks, What do you do when making the person you love happy also means breaking your own heart?
Review:
As much as I loved reading this book, I have really struggled to write this review, there are so many thoughts swirling around my head that getting them down on paper and then making some sort of sense of them has been a challenge, so bear with me. One thing I have decided though is that there is no way I can write this review without spoilers so turn back now if you if you are one of the few people who don't already know what's going to happen/read the book/seen the movie…
First things first, I really did love this book, it's not the first Jojo Moyes book I have read and as I loved her other books I kinda knew somewhat to expect and no I wasn't disappointed. I loved the characters, not initially I'll admit but I was their number one fan by the end. I loved seeing the change in characters, the way they evolved, the inventive ways Louisa was able to try and get Will to see the best in life and the slow change in Will's attitude. I'll admit I knew how the book was going to end before I picked up the book, which is why I had already stocked up on the necessary tissues and what not for when I was bawling out my eyes. I'm not actually sure if I want to read the sequel as I felt the ending kinda of summed up everything the author had set out to say and although I do kinda want to find out where Louisa's life ends up, I'm just as happy not knowing.
The reason I think that I have struggled so much with writing this is due to the controversy that surrounds it. Not so much to do with Will's decision to end his life but more because he was doing it as he was now disabled he did not feel as if he can carry on, despite Louisa's and his families best efforts. Now for me reading it I felt I could understand the reasons behind Will's action, although he wasn't terminally sick his quality of life had been diminished to a point where he did not want to carry on, he had weighed the pro's and con's of his choice and had made a decision based on what he wanted. I did not see it as the author portraying that those with a disability should want to die, or that they were a burden on their family and friends, I read it as a man who was faced with a life altering event and had sort out assisted suicide, a choice although also controversial, it was his choice, only he knew what he could or could not put up with. I think this is what the author was trying to portray but hey I could be wrong. The problem that I have had is that I can see how easily one might read it and find it offensive that Will had been portrayed in this way and  of his ultimate decision in the end. Especially for those that are living with the same sort of disabilities as Will, those who can really understand the pain that he is going through and who see him just give up in the end, is that somehow saying that they should give up to? Once again it's not the message I got while reading but I can really see how easily it would be to see it this way. It really got me thinking, I looked through some of the reviews more closely on Goodreads specifically those one star reviews and it seems that several people on later reflection have changed there initial 5 star rating to 1, to reflect that they don't agree with this stance. I considered should I change mine? While I do agree that people should be given the choice for assisted suicide in extreme case, I would never want to have someone feel that there life is not worth living because of it… In the end I have decided to keep my 4 and half star rating because as I mentioned that wasn't the message that I personally got while reading, and I guess as this is my thoughts I should stay true to what they are as rambly as they may be….
Did anyone else feel this after they had read the book? 
Rating: 4.5/5
Would I read again: Yes
Would I Recommend: Yes, but maybe give a warning if they don't already know what it's about.
Would I read another book from this author: Yes