Hi everyone and welcome to another Author Spotlight. Today we will be focusing on author Karl Holton and his debut novel 'The Weight of Shadows'. Now I have actually just finished this book and was more than a little impressed! It's definitely one to watch out for!
Goodreads Book Synopsis
When you have spent your life in the shadows, what would you do at the dying of the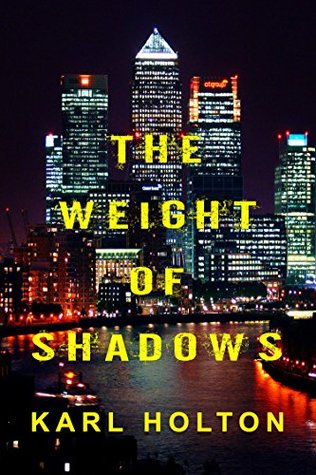 light?
Three years ago the best murder detective in London is blamed for the death of his colleague and kicked out of the Met.
A man with secrets buried in the past and present returns to London, the city that started the mysterious career which made him a billionaire.
The two need each other.
But they have no idea how much.
Getting to know Karl
Karl was born and grew up in London, England. He is a chartered accountant and worked in the financial markets sector for over thirty years. For years he was carrying around stories in his head so he decided to start writing. His first book is the 'The Weight of Shadows' that was published in July 2017. It is the first in a series of books in the crime thriller genre.
He now lives in Surrey, England with his wife and two children.
Some early reviews of 'The Weight of Shadows'
Elaine Emmerick / The Hybrid Nation – 5 stars
"The ending is absolutely spine-tingling!" "a story that is intense and heart-pounding!"
Bookgirl Sulagna – 5 stars
"every chapter ended with a cliffhanger"
"irresistible book, impossible to put down."
Topaz17 – 5 stars
"a thrilling story and keeps you guessing"
Links related to Karl Holton
You can buy 'The Weight of Shadows' on Amazon.com here and on every other Amazon website.
You can find out more about Karl or follow/'like'/subscribe to see what is happening here:
Website/Blog = http://karlholton.com
Twitter = https://twitter.com/KarlHolton
Facebook = https://www.facebook.com/karlholtonauthor/
Email = info@thuja.co
Karl would love to hear from readers and discuss the book.