So yesterday I finally counted up all of the books I have reviewed since I started this blog,  and was a tad surprised to see I have hit the halfway mark of 50 books woohoo, 50 more reviews to go! (I probably really should of started at the actual beginning of the year as opposed to April as it only gives me 4 and half months left but whose counting).
This kinda got me thinking back to all of the books from this year, and then I sort of progressed back to reminiscing to all of the books from my childhood which I wish I still had or could read again. For me not only to the books remind me of my childhood but they also remind me of England, (I moved to New Zealand 12 years ago now). So instead of being sensible and writing up the reviews I'm behind on, I'm going to list the main books that give me that warm fuzzy feelings when I think back on them!
 The Very Hungry Caterpillar – Eric Carle
The Very Hungry Caterpillar is definitely one of the first books being read to me as a child, we read it at school, home, wherever it was just one of those books that seemed to be everywhere!
The Tale of Peter Rabbit – Beatrix Potter
Okay so this is definitely another one that seemed to be everywhere, not only that but there was several cartoons revolved around Peter and I always loved looking at those drawings. The main reason this one gives me the warm fuzzy's is that I would always get to read it when visiting by Nan.
The Sleepover Club – Rose Impey, Fiona Cummings, Lucy Diamond, Angie Bates
So this was one of the first series's I can ever remember reading, they revolve around five children who you guessed it have a lot of sleepovers haha, not without getting into a bit of mischief or trouble of course. From memory there was like 50 books in the series and I was pretty determined to read them all. (Not sure I ever actually did though)
Matilda – Roald Dahl
To this day Matilda is still my favourite Roald Dahl novel/film. I'm sure it has nothing to do with the fact it's about a little girl who loves to read who suddenly finds out she has super powers, not at all. It was also one of the first 'grown up books' I can remember owning which also may or may not have something to do with it.
Goosebumps – R.L Stine
Okay so I can't remember exactly how I got into this series, as a rule I don't read horror/scary kind of books, I have a sneaking suspicion it would of been peer pressure because at the time they were ridiculously popular. The only reason this one gives me any sort of warm fuzzy feeling is because it used to be one of the main discussion points of me and my friends.
The Story of Tracy Beaker – Jacqueline Wilson
I loved pretty much any Jacqueline Wilson books as a child, some of them were definitely not meant for the age I was reading them at but they still remained by favourite. Tracy Beaker was the first Jacqueline Wilson book I owned and when it became a children's programme on CBBC it just made it that little bit extra special.
Angels Unlimited – Annie Dalton
This book series remains special to me as it's the first time I can remember ever waiting patiently for the book in the series to come out. I was not a particularly patient person then and it hasn't really improved much when it comes to books haha. I actually finished all the books in the series a couple of years ago after realising many more had come out since I had last read them.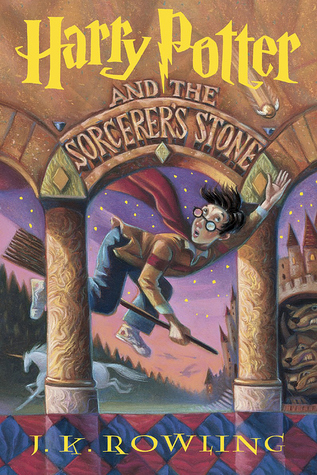 Harry Potter – J.K Rowling
Now what childhood book list would be complete without Harry Potter, especially when one grew up in the UK as they were first being released! This was a book that was initially being read to our class, but as I was so curious as to find out what happened I begged my Mum buy it not only so I could read it again but also so I could overtake everyone else and find out what happened! The last time I read the first book was New Years Day last year where I had to go into work on what has to be the least busy day of they year as everyone assumed we would of have closed!
So there you have it there is definitely a lot more that I could add but these are the ones that hold the best memories for me. Have you read any on the list? What are your childhood nostalgia books? Let me know!