"I am haunted by humans."
Goodreads Synopsis: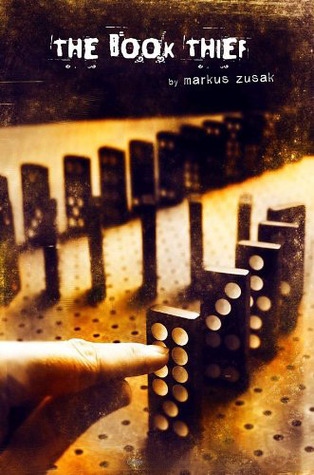 It's just a small story really, about among other things: a girl, some words, an accordionist, some fanatical Germans, a Jewish fist-fighter, and quite a lot of thievery. . . .
Set during World War II in Germany, Markus Zusak's groundbreaking new novel is the story of Liesel Meminger, a foster girl living outside of Munich. Liesel scratches out a meager existence for herself by stealing when she encounters something she can't resist – books. With the help of her accordion-playing foster father, she learns to read and shares her stolen books with her neighbours during bombing raids as well as with the Jewish man hidden in her basement before he is marched to Dachau. This is an unforgettable story about the ability of books to feed the soul.
Review:
This is a book I have been meaning to read for such a long time and that was with only a vague sense of what the book was about! As soon as I researched a bit more into I pretty much bought the book immediately.
First things first I loved that the book was narrated by death, especially a book which revolves around the second world war, death really gives a unique insight. Secondly it's about a girl who loves books, pretty easy to relate to! The story itself is both beautiful and horrifying, moments which would be easy to hold on to forever and a lot more which would be better if forgotten. It shows so many different aspects of the human psyche from those whose voices were tainted by the hate that surrounded them and those that were still able to find compassion and love in the small things.
The characters themselves were well thought out and as much as I tried not to love them, (I was pretty sure it wasn't going to end well) I couldn't help myself which led to a whole bunch of tears but still no regrets! I definitely want to go see the movie now but I think I may leave it awhile while I regroup a bit haha.
Rating: 4.5/5
Would I read again: Yes
Would I Recommend: Yes
Would I read another book from this author: Yes